Managing Partner
Christopher J. Kearney
Mr. Kearney's broad, multi-industry exposure has included experience in flow technology, power and energy, detection and measurement, aerospace and automotive.
Christopher J. Kearney is the former Chairman of the Board of SPX FLOW, Inc. He is the retired President and CEO of SPX FLOW and served in the same roles at SPX Corporation prior to the spin-off that created SPX FLOW, Inc. in October 2015.  Mr. Kearney is currently serving as the Executive Chairman of the Otis Worldwide, and an independent director of Nucor Corporation.
Mr. Kearney was named President and CEO of SPX Corporation in December 2004 and he was appointed Chairman in 2007. He joined SPX Corporation in February 1997 as Vice President, Secretary and General Counsel. Prior to joining SPX Corporation, he was Senior Vice President and General Counsel of Grimes Aerospace Company, a Forstmann Little company. Grimes Aerospace Company was a leading manufacturer of aircraft lighting equipment, engine system components and electronic systems. His business experience also includes positions at Borg-Warner Corporation as a Senior Attorney and Senior Counsel at General Electric's global materials business. Mr. Kearney holds an undergraduate degree in Government from the University of Notre Dame and a law degree from DePaul University Law School. He is the past Chairman of the Foundation For The Carolinas. He also served on the Board of Directors of United Technologies Corporation prior to the spin-off that created Raytheon Technologies, Carrier, and Otis Worldwide.
During his career at SPX Corporation, the company was transformed from a domestic automotive tool and equipment supplier to a global, multi-industrial business with sales in 35 countries and revenues peaking at over six billion dollars.
During Mr. Kearney's tenure as Chairman, President and CEO of SPX, the company was streamlined and the company's flow technology business expanded, ultimately leading to the creation and spin-off of SPX FLOW, Inc. in 2015.
Partner
C.J. Kearney
C.J. Kearney has 17 years of commercial real estate valuation and asset management experience. Prior to joining Eagle Marsh Holdings, Mr. Kearney served as Vice President, Director of Finance for Lincoln Harris where he was responsible for financial and operational analytics used to drive leasing, acquisition, disposition and capital allocation decisions for a client portfolio of 6.3 million square feet.
Mr. Kearney began his real estate career with General Growth Properties in Chicago, IL as a Financial Analyst working on acquisition, disposition, capital markets and new development analysis.
Additionally, Mr. Kearney has held various analytic and asset management roles with Kimco Realty Corporation and Bank of America where he served as a Vice President in Consumer Real Estate Services.
Mr. Kearney received a Bachelor of Science in Finance, with a Minor in Accounting from Clemson University.
Partner
Ryan Kearney
Mr. Kearney has extensive experience in government and regulatory affairs and public relations. Throughout his career, he has worked as a lead advocate for a number of private sector industries.
Most recently, Mr. Kearney managed the public affairs and real estate portfolio of Adams Outdoor Advertising of Charlotte. Prior to joining Adams, he was Manager of Labor and Immigration Policy at the National Restaurant Association. The National Restaurant Association is the leading business association for the restaurant and foodservice industry, the second largest private sector employer. His public affairs experience also includes a position with the U.S. Chamber of Commerce in the Labor, Immigration, and Employee Benefits department. The U.S. Chamber is the world's largest business federation, representing the interests of more than three million businesses and organizations of all sizes.
From 2010-2012, Mr. Kearney served as a staff member for the U.S. House Committee on Education and the Workforce, under Chairman John Kline.
Mr. Kearney is a graduate of Rollins College in Winter Park, FL. with a Bachelor of Arts in Political Science. He received his Master of Arts in Government from Johns Hopkins University in Baltimore, MD.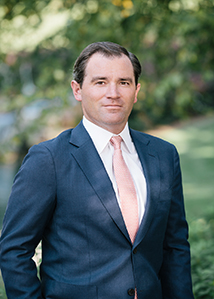 Partner
Kevin Kearney
Kevin Kearney has extensive experience in commercial transactions, including acquisitions, dispositions and commercial lending across a variety of sectors. Mr. Kearney is a member of the Board of Directors, in his capacity as a Partner at Eagle Marsh Holdings, of Scanalytics Inc.
Prior to joining Eagle Marsh Holdings, Mr. Kearney was the Chief Executive Officer of Entropy Investment Management, LLC, a portfolio company of York Capital Management, a position he held from 2017 to 2022. Entropy's focus included private equity investments in renewable and alternative energy in North and South America and the Caribbean. Mr. Kearney also served as Entropy Investment Management's General Counsel for two years prior to being elevated to the position of Chief Executive Officer. During his time with Entropy, Mr. Kearney was a member of the Board of Managers of Rhode Island Energy Partners, LLC and Concord Energy Partners, LLC.
Mr. Kearney's prior experience includes private legal practice as an associate at both McGuireWoods LLP and Winston & Strawn LLP. During his time in private practice, Mr. Kearney's primary focus was in corporate lending, where he represented financial institutions in structuring, negotiating and documenting secured and unsecured bilateral and syndicated credit facilities, including in connection with acquisition financings.
Mr. Kearney holds a B.B.A in Finance from the University of Notre Dame and a J.D. from Marquette University Law School.